Whoever you are, wherever you are from,
you are welcome here.

Christ Lutheran Church - Visalia
We stand by broken hearts.
Christ Lutheran Visalia is a place where people can meet Jesus, believers can engage in life-giving community, and everyone is welcome. We believe in creating a space where people can have authentic encounters with Christ, discover their gifts and use them for Him. Join us for our Sunday services!
From great worship services on Sundays, to Sunday
School for the Kids, to small groups throughout the week, or simply coffee & breakfast meetups for men and women, we have dozens of opportunities for people to gather together in community weekly. We encourage one another to live an abundant life devoted to Christ.
Special messages from our CLC Leaders, devoted to sharing God's Word, and offering their vision how our family can grow closer to God and the teachings of Jesus. Through our faith, we will strengthen our relationships and love for one another.
Holy Week stands at the head of our calendar, the holiest week of the entire liturgical year. Holy Week begins on Palm Sunday and continues until Easter Sunday. It celebrates the Paschal Mystery, the passion and death of our Lord, Jesus Christ, and his victorious resurrection, his triumph over sin and death and his glorification by his Father. Experience three key services by viewing videos of sermons, special music and Good Friday's Stations of the Cross.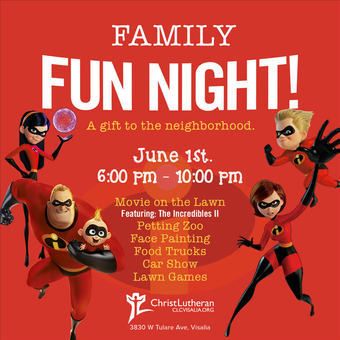 Saturday June 1st
6:00 pm to 10:00 pm on the CLC Campus

IT WAS A BLAST...
Take a look at our
Connections Video of this special event...

* Movie on the Lawn: The Incredibles II
* Petting Zoo
* Face Painting
* FREE Taco's for the Family
* Car Show
* Lawn Games

FUN for ALL!

Friday June 7th... first pitch @ 7:00 pm
RAWHIDE Baseball & Fireworks

A great evening for the family!
Enjoy Pre-game, with special Ball Park Franks and Burgers, plus beverages to quench your thirst!

Enjoy the game and plan on celebrating with a great Fireworks Presentation following the game.

BUY TICKETS this SUNDAY, 6/2!
Special Pricing: $ 10
We have remaining tickets, and will get additional tickets, and have them available to pickup in the CLC Office... afternoon on 6/3 thru Friday, 6/7 @ 1PM.

52 Are Going... Are you going to join the fun???



CLC Small Groups are meeting throughout the summer! Click below to get connected, or click "Connections" on the menu bar to learn more!

SUNDAY WORSHIP:
Traditional Service @ 8:00 am
ChristSong Contemporary Service @ 9:30 am
CLC Kids Sunday School @ 9:30 am in the Community Connection Center
Deeper Worship (Jr. & Sr. High) @ 9:30 am at The House
Worship Cafe @ 11:00 am in the Community Connection Center
Lahu Worship Service @ 11:00 am